---
She might be pushing 100, but Tao Porchon Lynch says she feels like she's "going on 22." The 98-year-old is the world's oldest yoga teacher, one who also took up competitive ballroom dancing at 87.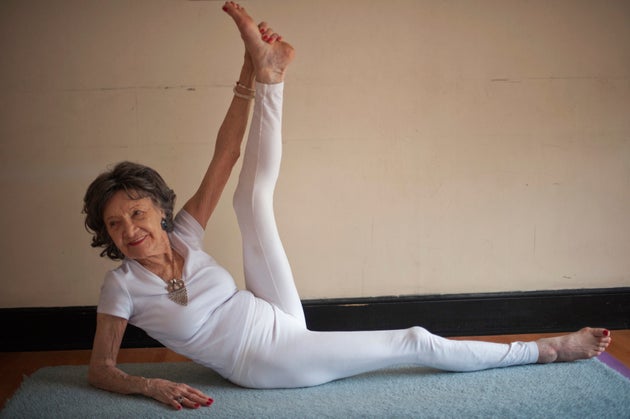 But it's not simply her longevity that's astounding. It's her eternally sunny outlook on life.
Porchon-Lynch recently spoke at a New York City event where she talked about how she maintains her positivity and her golden rules for happiness, Well+Good reports.
"Every day I wake up and say this is going to be the best day of my life ― and it is," she said.
First off, it's important not to dwell on the bad things, she says. Mind over matter, always. "I don't let it get in my way." It's clearly a principle she lives by, having continued her active lifestyle and yoga practice even after three hip replacement surgeries.
Secondly, "Don't look down on anyone." It's a lesson she says she learned from her uncle, who reminded her that we can all learn something from one another.
When it comes to longevity, Porchon-Lynch can teach us a few things. Last year she described staying in good health as a balancing act ― noting that she made sure to mind her portion sizes, and that she only enjoys an occasional glass of wine.
Last but not least, she said your mornings can set the tone for the whole day. While many of us wake up grumpy and frazzled at the sound of our alarms ― waiting for coffee to put the life back into us ― Porchon-Lynch says one of the most important things is what we do when we first wake up.
"Wake up with a smile on your face," she said.
Tao, you truly are an inspiration.
Namaste!
Read more articles like this: http://www.huffingtonpost.co.za/entry/worlds-oldest-yoga-teacher-shares-3-secrets-for-lifelong-happiness_us_57c84cd3e4b078581f117a17